Repair and Prune All Kinds of Trees – Use Us for Tree Surgery in Reigate RH2
Secure yourself a fast and easy solution to all sorts of tree care dilemmas when you book an appointment with us for tree surgeons in Reigate RH2. Even if you've suffered a weather-related emergency that's left you with a dangerous tree in your garden, we can be there to sort out in short order, offering as we do emergency appointments whenever you need them. We're equipped to the highest professional level, and all of our staff are fully trained and certified tree surgeons, so your trees will be in the best possible hands.
Talk to Us When You Need a Trained Arborist in Reigate
We'll provide you with an experienced and skilled tree surgeon who has access to the experience and the training you need to take care of any tree care problem. Hiring an arborist from us in Reigate though, means that you also get a service that supports you with:
Day and night customer care – we have online and phone support systems that are staffed by live advisers 24/7
Transparent prices and no-obligation viewings – we'll come and take a look at your tree situation for no cost, and you'll get a free quote before we start
Comprehensive insurance cover – we like to make sure that you're protected while we're on your property!
Our professionals can also provide garden clean up or garden maintenance with a great discount
Call us on 01737 302312 for a quote
Find a Tree Surgeon in Reigate RH2 with All the Expertise You Need
Because they're suitable for all types of domestic and commercial properties, and experienced with all species of trees, there's not a lot that you can't get taken care of when you hire a tree surgeon from us in Reigate. We'll turn up promptly, armed with all of the latest equipment, in order to provide exactly what you need. Our team can prune and reduce the height of any tree, or effect a full and complete removal if that's what you need us to do. We'll be using a shredder to deal with the waste and will be happy to take it that waste away for your if you need us to – all you need to do is ask!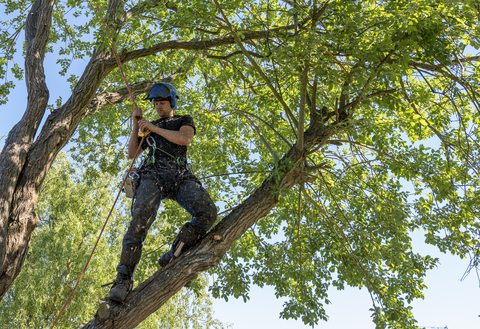 You'll Get Tree Pruning That's Fully Insured
We know that having a team of tree surgeons on your property can seem worrying, but when our tree pruning and removal experts on your property you can relax. All of our tree surgeons are trained and experienced professionals who wear smart uniforms which you'll be able to spot at a distance, as well as full identification. What's more, full insurance cover is provided with each and every one of our services as standard, so you'll have nothing to worry about when you entrust your trees to the hands of our specialists.
How to Book Your Reigate Tree Surgery
Though the actual task of dealing with your injured or troublesome tree might be difficult, making an appointment for tree surgery in Reigate from us is really simple! Just pick up the phone and dial 01737 302312 today and you'll be speaking to a member of our customer care team. If you've got any questions about our services then now's the time to ask as our team know all about what we do, and will be glad to give you a free quote before you go!

We also have a booking form and a live chat feature which you can use to reach us, get a quote and make a booking at any time.